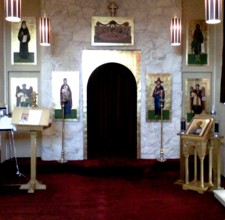 Welcome one another, therefore, just as Christ has welcomed you, for the glory of God." - Romans 15:7
Who we are:
We are a parish of the Metropolis of San Francisco of the Greek Orthodox Archdiocese of America, which is under the Ecumenical Patriarch of Constantinople.
The people of our parish come from America, and around the world. Church services are sung in English. In each Divine Liturgy, the Lord 's Prayer is spoken in as many languages as is requested. The aim and purpose of our Parish is to keep, practice and proclaim the Orthodox Christian Faith pure and undefiled.
proclaiming the Gospel in accordance with the Orthodox faith
sanctifying the faithful through God's grace in worship,
enhancing people's spiritual life,
instructing others and receiving them into the Church
teaching the Orthodox faith and the ethos of the Church, which is the Body of Christ (Ephesians 1:23) and "the pillar and ground of the truth" (I Timothy 3:15).
---
Online Chapel
Translation of the Relics of Stephen the Protomartyr
Prayers are needed. Father John's wife, Presbytera Anna, has suffered a stroke. Our prayers are with her, and we wish for a full recovery. May God help her go through this difficult time - and give her strength to overcome it and get better soon. Please include her in your prayers. She is currently at Cherry Hill Swedish Hospital in Seattle.
Father John also needs our prayers to help him with his care for Presbytera Anna. We have asked him to send us messages when he can. The latest news is that Anna has started rehabilitation and is making a slow recovery.
St. Nectarios Services and Activities Temporally Suspended. All Internet and Live Services at St. Nectarous are suspended for the near future to better allow Father John to be able to care for Anna. A date currently has not been set for the restart of Services and activities.
Participate in Alternative Online Services. St. Nectarios parishioners are encouraged to participate in Services being streamed on the internet (such as: Holy Apostles Christian Church in Seattle - Shoreline (www.holyapostlesgo.org), and St. Demetrios Greek Orthodox Church in Seattle (http://saintdemetrios.com/). Please see their websites for times and service links.