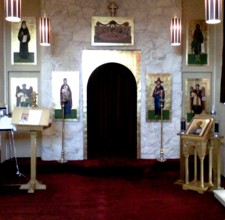 Welcome one another, therefore, just as Christ has welcomed you, for the glory of God." - Romans 15:7
Who we are:
We are a parish of the Metropolis of San Francisco of the Greek Orthodox Archdiocese of America, which is under the Ecumenical Patriarch of Constantinople.
The people of our parish come from America, and around the world. Church services are sung in English. In each Divine Liturgy, the Lord 's Prayer is spoken in as many languages as is requested. The aim and purpose of our Parish is to keep, practice and proclaim the Orthodox Christian Faith pure and undefiled.
proclaiming the Gospel in accordance with the Orthodox faith
sanctifying the faithful through God's grace in worship,
enhancing people's spiritual life,
instructing others and receiving them into the Church
teaching the Orthodox faith and the ethos of the Church, which is the Body of Christ (Ephesians 1:23) and "the pillar and ground of the truth" (I Timothy 3:15).
---
Online Chapel
St. Nectarios Services
Please see "Service Information" Tab for a list of current church activities
Vespers and Liturgy Services: Currently we have online Vespers and Liturgy Services every weekend and in-church Services once per month.
On-Line Services. You may either: 1) join an on-line Service online in a Zoom meeting or 2) participate through Facebook ('Saint Nectarios - Pasco' group).
The Zoom link for Saturday Services is:
https://goarch.zoom.us/j/98171368290?pwd=UHMxZlhhRW5pUTREY2JWaVo3WWJKUT09
The Zoom link for Sunday Services is:
The Zoom link for Weekday Services is:
Akathist to St. Nectarios Service:
On the first Friday of Each Month. You may join this Service in two ways:
1) Join the on-line Akathist to St. Nectarios zoom meeting using the link on the first Friday at 6:00 PM. Use the weekday link given above.
or
2) If you cannot (or do not wish to) connect to the Zoom meeting, join us by having you family conduct the service in your home on Friday evening. We suggest having your family take turns reading parts of the Service. If you don't have a copy of the Service, the text for the service may be found on the Church's Website.
Participate in Services: St. Nectarios parishioners are encouraged to participate each week in the St Nectarios Services being streamed on the internet. You can either join a Service live in a Zoom meeting (and perhaps help conduct the Service), or you can attend the Service on Facebook.
Recent St. Nectarios Service Videos
Video of Divine Liturgy Service on Sunday January 16, 2022
Video of Vespers Service on Saturday January 15, 2022
Video of Divine Liturgy Service on Sunday January 9, 2022
Video of Vespers Service on Saturday January 8, 2022
Video of In-church Divine Liturgy Service on Saturday January 8, 2022
Video The Akathist to St. Nectarios Service on Friday, January 7