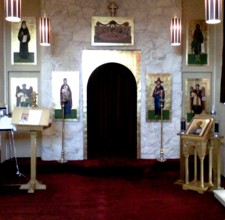 Welcome one another, therefore, just as Christ has welcomed you, for the glory of God." - Romans 15:7
Who we are:
We are a parish of the Metropolis of San Francisco of the Greek Orthodox Archdiocese of America, which is under the Ecumenical Patriarch of Constantinople.
The people of our parish come from America, and around the world. Church services are sung in English. In each Divine Liturgy, the Lord 's Prayer is spoken in as many languages as is requested. The aim and purpose of our Parish is to keep, practice and proclaim the Orthodox Christian Faith pure and undefiled.
proclaiming the Gospel in accordance with the Orthodox faith
sanctifying the faithful through God's grace in worship,
enhancing people's spiritual life,
instructing others and receiving them into the Church
teaching the Orthodox faith and the ethos of the Church, which is the Body of Christ (Ephesians 1:23) and "the pillar and ground of the truth" (I Timothy 3:15).
---
Online Chapel
Saturday of the 11th Week
St. Nectarios Weekly Bulletin
The latest schedule of Services
is available in the weekly
Overview of St Nectarios Services
St Nectarios has a mixture of in church and on-line Services. Once a month, we have a visiting Priest that celebrates Saturday Divine Liturgy with us. On most other Sundays we celebrate Sunday Typica Service.
The celebration of most on-line Services is conducted by Fr. John Angelis and the St. Nectarios Choir/Readers/Volunteers. These on-line Services allows Father John from Seattle to join us for many Services without travel to the TriCities.
The faithful may view/participate in the Services on the Saint Nectarios-Pasco Group on Facebook. Services will be streamed and posted after they are complete. For many of the Services, the text is included to help the faithful follow the Service.
To view Saint Nectarios Services videos, pictures, and other postings on Facebook Group "Saint Nectarios – Pasco" use the link:
https://www.facebook.com/groups/334558973222227/
Participate St Nectarios Services
St. Nectarios parishioners are encouraged to participate each week in the St Nectarios Services that are streamed on Facebook (Saint Nectarios -Pasco Group). Also, please contact us if you have an interest in taking a more active role in conducting the celebration of the Services.