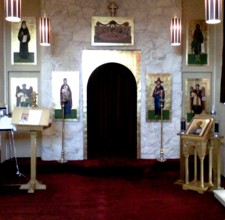 Welcome one another, therefore, just as Christ has welcomed you, for the glory of God." - Romans 15:7
Who we are:
We are a parish of the Metropolis of San Francisco of the Greek Orthodox Archdiocese of America, which is under the Ecumenical Patriarch of Constantinople.
The people of our parish come from America, and around the world. Church services are sung in English. In each Divine Liturgy, the Lord 's Prayer is spoken in as many languages as is requested. The aim and purpose of our Parish is to keep, practice and proclaim the Orthodox Christian Faith pure and undefiled.
proclaiming the Gospel in accordance with the Orthodox faith
sanctifying the faithful through God's grace in worship,
enhancing people's spiritual life,
instructing others and receiving them into the Church
teaching the Orthodox faith and the ethos of the Church, which is the Body of Christ (Ephesians 1:23) and "the pillar and ground of the truth" (I Timothy 3:15).
---
Online Chapel
Saturday after Holy Cross
Akathist to St. Nectarios Service - This Friday!
The first step will in resuming services will be an Akathist to St. Nectarios Service - that prays for the healing of the ill. This Service can be conducted without a Priest by lay people. It is possible that Father John may join us, if his schedule allows.
You may join this Service in two ways:
1) Join the on-line Akathist to St. Nectarios zoom meeting using the link on Friday September 3 at 6:00 PM,
or
2) If you cannot (or do not wish to) connect to the Zoom meeting, join us by having you family conduct the service in your home on Friday evening. We suggest having your family take turns reading parts of the Service. If you don't have a copy of the Service, the text for the service may be found on the Church's Website.
St. Nectarios Services and Activities Temporally Suspended. All Internet and Live Services at St. Nectarous were suspended in August to better allow Father John to care for Anna. Currently the plan is to restart Services and activities in September.
Participate in Alternative Online Services. St. Nectarios parishioners are encouraged to participate in Services being streamed on the internet (such as: Holy Apostles Christian Church in Seattle - Shoreline (www.holyapostlesgo.org), and St. Demetrios Greek Orthodox Church in Seattle (http://saintdemetrios.com/). Please see their websites for times and service links.